A Tradition of Service, Quality and Value

Since first established in New Jersey, U.S.A. in the 1990's, C.A.C. has dedicated to expertly fulfilling industry needs in foodservice and hospitality and strategically anticipating future market trends. With steadily expanded and constantly evolving line of foodservice supplies and equipment, we are committed to providing quality products and reliable services at the best value on the market.
As an award-winning member supplier of five prominent North American buying groups and a member of the North American Association of Food Equipment Manufacturers, C.A.C. collaborates with hundreds of foodservice dealers and chain restaurants nationwide, making our products seen almost everywhere.
Equipped with intensive experience in the industry and in-depth knowledge of customer's needs, C.A.C. has developed comprehensive brand family over the years — C.A.C. China, C.A.C. Stainless, C.A.C. Aluminum, C.A.C. Melamine, and C.A.C. Poly, BlendKing®, Klinge®, Schärfe®, Schnell®, and EquilThermo®.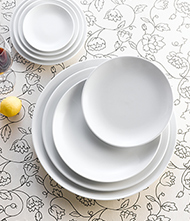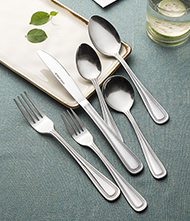 C.A.C. is proud to introduce smallwares and countertop equipment as part of our continuous efforts in offering a full-scale foodservice solution to fulfill the needs of any commercial setting such as restaurants, caterers, hotels/resorts, cruises, convention centers, schools, hospitals, nursing homes, and mobile kitchens. A restaurant manager will find everything from front-of-the-house to back-of-the-house, e.g., dinnerware, tabletop, beverage/bar solution and janitorial/sanitation solution. A chef will find everything for a professional kitchen to provide tasty cuisines such as cookware, GN-standard steam table pans and food pans, bakeware, pizza supplies, food preparation tools and gadgets, and countertop appliances. With a solid base in dinnerware, C.A.C. offers an extensive selection of foodservice supplies that can match with any dining environment and cuisine, helping to turn each occasion into a memorable experience.
C.A.C. stocks 5,000+ products at any time at the two warehousing facilities in New Jersey. We ship orders on the same day once confirmed. Our dedicated and experienced sales/customer service team is available during regular business hours for any questions about products and orders. With warranty on selected products, we stand behind our products and services with confidence.
We are deeply grateful for all our customers and partners. Thank you for your continued patronage during our 20+ years of journey in becoming a one-stop foodservice manufacturing supplier. C.A.C. will strive to carry on our commitment to provide you with reliable services, quality products, and the best value in the decades to come.